Jennifer and Osie spent the day enjoying the International Quilt Market in Houston, Texas. There are lots of great products and ideas.
Other members of the Honey Bee family will be coming down on Saturday and we'll have a big blog post when we get back on Monday!


Driving into Houston, bright and early



The craziness that is Sample Spree!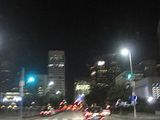 Headed to the hotel, late, late, late!